What sets apart a great kitchen from the rest? What defines an iconic product? How can one simple cabinet look better than another?
Many factors can play into this. The types of materials, the construction quality, the overall design and how it fits with the rest of the home, the type of market, where in the world the kitchen is being made; the list could go on. Yet, above all else, it is the company and the quality of product and service that will set them apart from the rest.
Decor Cabinets is one of these companies. Typically known for our customisable and traditional-oriented designs within the North American market, we here at Decor want to bring something new to the table.
Inspired by the modern, contemporary kitchen designs across Europe, influenced by the technique and quality of German engineering, and merging these influences with the North American lifestyle, the Zonavita line of cabinets are the perfect fit.
But what defines a European contemporary or modern design? Well, it's the use of clean and simple lines, subtle sophistication, having a deliberate use of certain textures, a prominence towards natural light, all while keeping the compact space as functional as possible.
On the other hand, to define a North American lifestyle can be difficult to pin down. The vastness of the landscape, the sheer size of the cities, and the over-the-top, unapologetic mentality helps to pin it down.
Combining these definitions and styles produces the essence of Zonavita: the clean, intentionally simple designs that fill the larger-than-life kitchens.
Zonavita sources our material largely from European companies. So when it comes down to the difference between our cabinets and other European-based companies, Zonavita's Production Manager, Heinrich Fast, says, "Take a look and compare it [as] an apple to apple."
In essence, there is not much difference in the quality of product itself between what Zonavita offers in North America compared to what is offered in Europe. Then what sets us further apart from a European kitchen?
As already mentioned, Zonavita's cabinets are made from a collection of high-quality and prefinished materials sourced from across Europe. Yet, by having our production line located in Canada, all Zonavita cabinetry is designed, built and shipped within North America, allowing our customers to have their kitchen in a much shorter timespan. Once the design is set and agreed upon, it only takes a few weeks to build and ship the cabinetry to our customer anywhere in the continent, ready for installation.
Additionally, being part of the Decor family, Zonavita shares the same, high-quality customer service team, offering the highest standard of service throughout the entire process from design to installation.
The style of the design is first and foremost, followed closely by the flow of functionality for each section of the kitchen.
The simplicity of solid colours, accented by open or floating wood shelves embraces the clean and contemporary styles. Various lighting options are able to showcase the open spaces of the kitchen while simultaneously highlighting the darker corners or the spaces used the least, like inside high mounted wall cabinets or underneath a corner wall cabinet.
When it comes to functionality, the placement of the oven, for example, is usually around eye-level. The commonly used medium height cabinet fits the usage of this section the best, while a lower base cabinet is a better fit for any prep and cooking related task. The entire wall space is not used either, creating a minimalist atmosphere that remains functional.
Material-wise, one option is our UV Lacquer cabinets, offered with a variety of matt or gloss finishes. Not only is this option scratch resistant, the UV Lacquer also has an antibacterial property. This helps reduce germs and bacteria by 99.9% within 24 hours on the hygienically sealed and closed surfaces. UV Lacquer, in general, is therefore perfect for areas subject to certain extra hygiene requirements.
Melamine is an impact and wear resistant option suitable for low- to mid-traffic areas and vertical applications. Our Feelwood finish options create a look and texture that is able to rival the authenticity of a real wood or veneer alternative. With the quality and durability of the melamine, the Feelwood finishes are fade and scratch resistant, easy to clean and care for, along with being cost effective.
The designs of our front panels for our doors and drawers come in a variety of styles. A single flat design can feature a woodgrain finish horizontally or vertically. A flush three-piece option is another choice with two vertical stiles on each side, split by a horizontal central piece. Finally there is the sturdy five-piece construction with the central panel framed by three-inch wide stiles and rails.
Each front option comes standard with one millimeter, door matching, edge banding.
Regardless of what finish or core material is used, Zonavita is able to offer 153 unique cabinet styles categorized between our base, tall or medium height, vanity, wall, or wall hood options.
Our medium height cabinet option, regardless of configuration, helps achieve the European contemporary design, adding an extra layer between the full height or base cabinets. Furthermore, Zonavita offers various Planero-specific internal hardware options that can be adapted towards the particular cabinet in which it is installed.
For example, the option of a half-round lazy Susan is available for the base or tall blind cabinet configurations. Swing-out baskets can be an alternate choice for a base blind corner cabinet as well. A swing-out option for the pantry configurations are also available.
Metal Legraboxes are used for our drawer box and pullout configurations. Keeping with the contemporary design, each drawer box has a sleek, straight-cut design and top-quality motion for an outstanding user convenience. Handleless designs are easily able to be implemented with a mechanical or electric motion support system, although integrated door handles are also available for each door front. Both options keep to a trim overall design. All tracks are automatically upgraded from standard if a larger box is necessary. Also as standard, three-dimensional height, side and tilt adjustability allows to keep the front gap alignment in check.
The updated and impressively slim 12.8 mm Legrabox design is able to fit the latest trends and is able to keep up with any new designs yet to come.
For each drawer box, Orion Grey or Terra Black are the two colour options. The Planero hardware accents the Orion Grey with a solid powder-coated dark grey.
Strip tape lighting can be used to bring focus towards the harder to light areas where conventional lighting systems may not reach. Depending on where the light is being placed, it is able to be shortened by one inch increments.
Puck lighting can be used in similar areas as the strip tape lighting. For this option, and depending on the design, a round or square puck light are the two options, which are snuggly recessed during the production of the cabinets. The mounting plate is available in either silver or black colours.
No matter what choice is made, there are a couple of stylistic choices available, such as a cool or warm lighting options, and dimmer switches.
Under cabinet lighting works well for both task- and accent-oriented functions. The dimmers that are available help in maintaining a balance of light between the regularly installed kitchen lights and the strip tape and/or puck lights. For example, when you're working on a countertop—cooking, cutting, or cleaning—the brightness can be brought up. When the extra light is not needed, however, dimming the accent lights still allows for a very welcoming atmosphere without leaving any dark areas.
Upper- or Over-cabinet Lighting
Many kitchens have open soffits above the cabinets, especially for kitchens with high ceilings. Without accent lighting, the vast openness would remain in the dark, unable to augment any existing ambience. Over-cabinet lights are able to add that extra dramatic flair to the kitchen.
Keep in mind that the accent lights are mainly illuminating the ceiling. In the designing stage, it is important to double check if the ceiling is well painted and free from defects.
How We Build Our Cabinets
In the building process, Zonavita utilises a dowel and glue construction method. As standard, all of our dowels are measured to be eight millimeters in diameter. The doweled construction allows our cabinets to have both a full top and bottom floor, each purposefully recessed by one millimeter from the front of the cabinet to achieve a cleaner, sleeker design.
Also as standard, all of our quarter-inch thick cabinet backs are recessed and dadoed an inch from the back. Additionally, hanger rails are also doweled into place behind the cabinet backing panel. Two rails are typically used, or three for the larger cabinet sizes..
Donovan Froese, Assembly Lead Hand
When it comes to making sure all of our cabinets are square, we use a machine called the 'Clamp' that gently presses all four sides together. Extra lines of glue are added along the framing of the hanger rails to give extra strength.

Take a look at what Donovan Froese, Assembly Lead Hand, is able to do for squaring off the cabinet box.
When a full kitchen is installed, as standard across all of our kitchens, an eighth of an inch reveal will be shown along the outside edge and top of the doors or drawer fronts. A sixteenth of an inch is standard on the left or right side for when two cabinets are next to each other, equalling to an overall eighth of an inch.
All doors and drawer fronts are flush with the bottom of the cabinet.
Our floating shelves add a unique aspect in the overall design of a contemporary kitchen. Each shelf is constructed to be one and a half inches thick overall. Floating shelves are also available in 2″
A top and bottom panel are attached to a series of ribs that run from the front to the back of the shelf, each rib being approximately twelve inches apart. To avoid any sharp edges due to the mitering process, strips of wood are used as spacers to fill the gap between the panels and ribs along the front and sides. Any exposed side is then finished with a door finish matching edge band. By finishing off the floating shelf in this way, the sharp edges become rounded.
If the shelf is ordered with door matching melamine, the thickness of the top and bottom panels will be five-sixteenths of an inch, or, for the same quality UV Lacquer, three-eighths of an inch.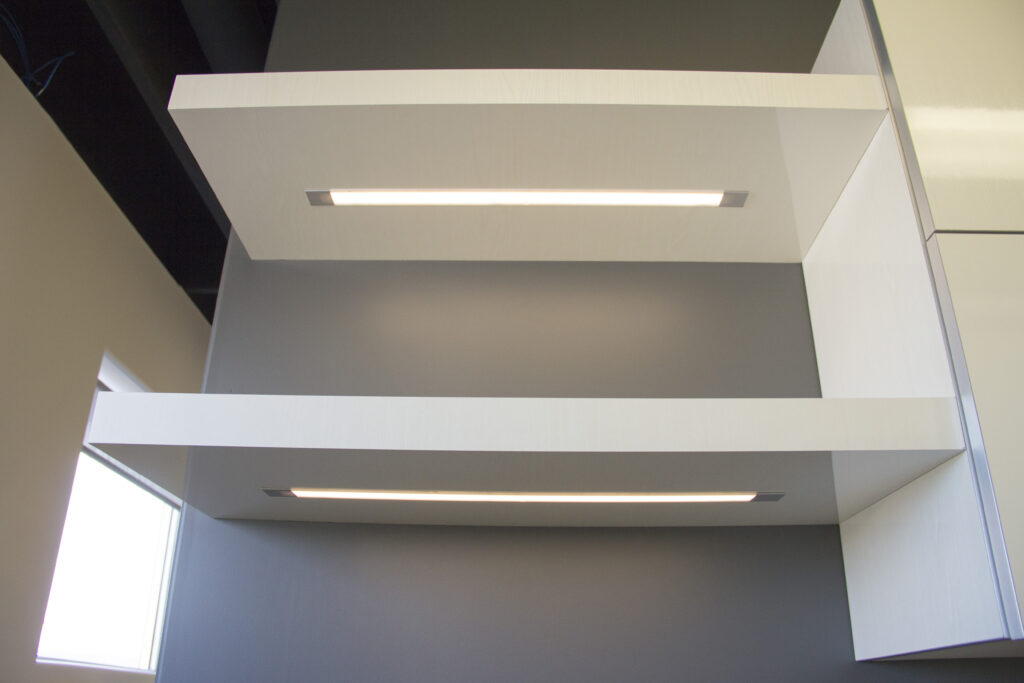 What sets our kitchens apart from the rest? How can one of our simple cabinets be improved to look better than what we have done before? Where can we go from here?
The modern, contemporary market is still in its infancy in North America, still learning how to hold its head up. Many factors, like the materials used, the quality of construction, where it's built, can all play a role in what is to come. Above all else, however, we want to be the innovators in the future of this market.
In order to do so, we will always strive to improve upon what we have, to look towards the concise functionality of a European mentality, the flamboyance of German technicality, and the grandiose North American flair.
The clean, intentionally simple designs that fill the larger-than-life kitchens defines Zonavita today. Let's find out what will create the Zonavita of tomorrow.